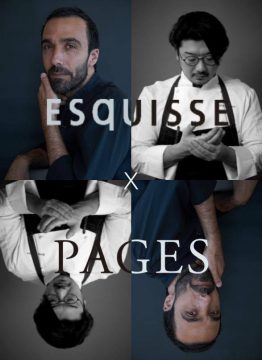 A collaboration event of ESqUISSE and PAGES will be held at PAGES in Paris
for two days on February 5 and 6.
A Japanese chef in Paris, Chef TESHI, and a French chef in Tokyo,
Lionel Beccat, meet in Paris to develop their culinary universe with the
theme of " miroir ". Two chefs, who are particular about ingredients,
terroirs, seasons, and their own evolution, offer menus that explore each
world. We look forward to welcoming you in Paris.
Date: February 5 (Wed.) , February 6 (Thu.) lunch / dinner
Location: Restaurant PAGES
4 rue Auguste Vacquerie-75116 Paris
Menu: 280 euros (excluding drinks)
Reservation: Accepted only at Restaurant PAGES website.
https://www.restaurantpages.fr/reservation.php
** Cancellation policy: Cancellations on the day or cancellations made
within 24 hours of booking will be deducted 105 EUR per person from the
registered credit card.
** Information: contact@restaurantpages.fr +33 1 20 74 74 94-