2022.12.01
Les Saisons & ESqUISSE  DES HOMMES-DES MOTS
On February 2, 2023, we will be hosting a dinner in collaboration with the Imperial Hotel "Les Saisons".
Chef Thierry Voisin of Les Saisons and Chef Lionel Beccat of Esquisse have been in Japan at the same time and have developed a close friendship. The two chefs will reflect on their past and share their thoughts and beautiful words in two culinary creations that only two French chefs who have lived in Japan for 16 years could create.
In celebration of 10 years (+1) since our opening, ESqUISSE will be holding this event on February 2, 2023 to express our gratitude for your continued support.
We would like to share with you the results of what we have learned through Japanese seasons, ingredients, culture, and our contact with producers and customers, and we will open a new page for the future.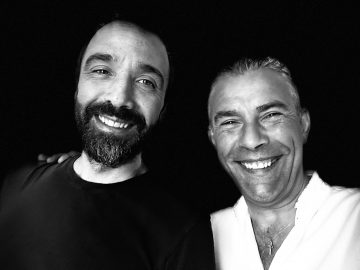 DES MOTS
Thursday, February 2, 2023 at ESqUIISE
Time 6:00pm / 6:30pm / 7:00pm
Price 43,000 yen (inclusive of tax, but exclusive of service charge)
For reservations, please call ESqUISSE at 03-5537-5580.
DES MOTS
"Les jolis mots, ce qui nous lie " Some beautiful words, which connect us
A deep and sincere discussion between us, two old friends. Many beautiful words , important words, meaningful words, and words expressing one's love. Also, words addressed to the other, words  resonate in our heart and unforgettable.
We will transform those lovable words which draw our friendship into dishes

Menu contents
2 amuse-bouches / 2 appetizers / 3 dishes / 2 desserts
Chef Thierry Voisin and Chef Lionel Beccat will take turns preparing the dishes, and the host restaurant will prepare one more dish.
Two dinners are different menus, based on different themes.
ーーーーーーーーーーーーーーーーーーーーーーーーーーーーーーーーーー
"Au fil du temps, ce qui nous a construit "  Over the time, what shaped us
We are going to focus our plates on memories, places, people and landscapes, which have shaped our lives as men and cooks. It would be an intimate night which is charged with a sweet and touching melancholy, sharing the important steps that lead us to this event.
Thursday, January 26, 2023 at Les Saisons, Imperial Hotel, Tokyo
Time 5:30pm / 6:00pm / 6:30pm
Price 43,000 yen (inclusive of tax, but exclusive of service charge)
The reservation is fully booked. Please call Les Saisons to inquire about a waiting list at 03-3539-8087.
For details: Please visit Les Saisons website
【Thierry Voisin】
After a remarkable career as a chef at multi-Michelin-starred Les Crayeres, one of the finest restaurants in Champagne, France, he has presided in the kitchens of Les Saisons at the Imperial Hotel, Tokyo in 2005.